Company History
Anyone can mix, but if you want to blend, you GEMCO.
We are the undisputed, global mixing and drying authority.
Operating from an 80,000-ft3 industrial machine factory, powder test and tolling center, GEMCO has always been a family owned business, with family values, and we prefer not to brag about ourselves. We'll let the fact that we have an installed base of thousands of powder blending and drying units in nearly 40 countries around the world in some 40 industries speak for itself. We have always been focused on tumble mixing and drying. We have never pretended to be something we are not. We have stayed true to our core competencies and thus, are the one everyone in the industry looks to and follows.
We've built our company's culture around innovation. GEMCO clients value that we engineer and construct superior, world-class equipment that enables their production processes to run faster, cleaner, safer and more efficiently.
Let's face it: Anyone can sell you powder blending and drying equipment. They may even say theirs can perform just as well as GEMCO's. But they simply cannot match our tried and true, heavy-duty design and integrity, which we've developed through over 100 years of engineering experience and innovation.
What others may offer you may look like a GEMCO. But don't find out the hard way – for instance, when our competitor's drive shaft over-torques, cracks the vessel, and shuts the production line down for weeks for repairs – you should have bought a GEMCO.
GEMCO invests continually in research and development – conducted right here at our Middlesex, NJ, facilities. This means you tap into the latest tumble mixing and drying innovations – new purchase or upgrading with a retrofit – optimizing your capital investment. Nutshell: GEMCO equipment does not become obsolete; the average GEMCO machine lasts over 40 years.
Corporate Milestones
The General Machine Company of New Jersey (a name later shortened to GEMCO) began operations in 1916 as a general machine shop to the growing industry around Newark, NJ. During the First World War, DuPont, then a major contractor to the US Military, sought a faster and safer way to produce gunpowder. Out of this project the double cone blender was born and was patented by GEMCO in the 1930s.
After the war's conclusion, the growing automobile industry created additional opportunities for the blender in producing custom pigments for automobile manufacturers.
The unique concept of the tumble blender created a demand such that it blossomed into a product line that ended GEMCO's days as a job shop. Product development followed customer's needs and requests; truly implementing the "innovation circle".
Today, nearly 40 different industries utilize GEMCO's equipment from pharmaceutical to nutraceutical to chemicals, powdered metals, food & beverage, cosmetics and more. We provide tumble machines to company names and brands we all know – and they know to be the best they must work with the best: GEMCO, the global mixing and drying authority.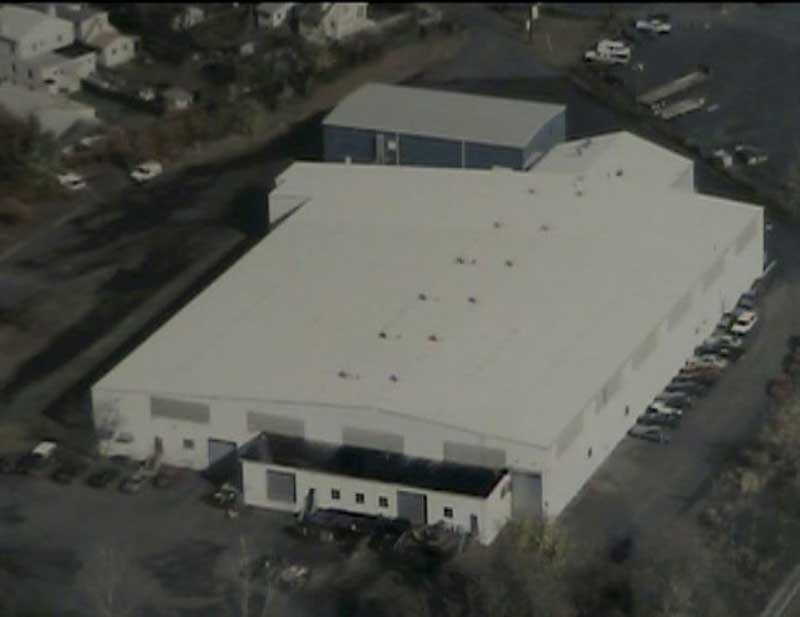 John L. Muench, Sr.
1916
GEMCO is one of the largest Machine Shops in New Jersey, equipped with lathes, gear cutting, honing, drilling, line boring, and vertical boring
Designed the first ever backlash reducers used on draw bridges, street elevators, and later on all blenders through the 1960's.
---
1920s
Customers wanted a full opening valve that would close against abrasive materials and would not wear.
The first spherical disk valve was introduced. All industries loved this highly machined valve for its performance and long life between maintenance.
---
1930s
Patented the Double Cone Blender in 1935.
Introduced milling inside a rotating blender, which was named the Muench Mixer and subsequently patented. This innovation saved production time by making a one stop process.
---
1940s
GEMCO was the first to add the center band on the Double Cone blender which made it possible to insert an agitator in 1945.
Awarded Navy "E" Award for Excellence.
A special segmented spherical disc valve was developed to solve leaking powder problems.
---
John L. Muench Jr.
1950s
Agitators were modified to provide liquid injection.
Vessels were jacketed to create dryers.
---
1960s
The award winning GEMCOMATIC® drum loading/unloading system was perfected and Patented in 1961.
The Porta-Hopper was introduced for semi-continuous operations and Patented in 1965.
The valve was improved with double eccentric bushing design for field adjustments of clearance.
Introduced Agitators into Vacuum Dryers.
Introduced Liquid Feed Systems into Vacuum Dryers.
1st Spherical Solids Flow Valve, Patented 1966.
1st Slant Cone Blender was Patented and introduced in 1968.
Introduced the first Cantilever Agitator Shaft design in the industry.
Developed and produced the 1st Dimpled Jacket on Vacuum Tumble Dryers.
1st Stainless Steel Support Enclosures for Sanitary/Easy Clean Assemblies.
GEMCO was the 1st to offer Full-Stop Pneumatic Brake Assemblies on all Tumble Units.
---
John L. Muench III
1970s
The Slant Cone® shape was developed for better and faster blends.
Standardized all GEMCO Blenders and Dryers to be compatible with the Gemcomatic®
All products were standardized. A new part numbering system was designed for a new ERP System to be utilized by ad between sales, engineering, purchasing, and manufacturing. Super-efficient productivity evolved.
Introduced the 1st Telescoping Retractable Sleeves for Material Handling.
Developed and 1st to offer True Running Agitator Shafts with Ball Bearings.
---
1980s
Airless I spray was engineered to provide the capability of handling viscous, high surface tension, heated and/or minute-additive liquids and was Trademarked in 1983.
Fabrication was added (and later ASME code qualification) to our capabilities as quality was harder to control with outside vendors.
Opened a 20,000 square foot GEMCO technical center, housing prototypes of future GEMCO designs. All designs receive two years of rigorous testing under actual industrial use prior to final quality control sign off.
Continuous involvement of engineering to design equipment that is operator friendly; having no need of skilled mechanics for routine maintenance and cleaning.
1st 4-5 step Shaft Seal for longer life.
GEMCO introduced the 1st Air Purge Seal on the Agitator Shaft.
1st Pharmaceutical Seal preventing carmelization.
Engineered and developed the 1st D3 Design – 55% fill level – More Internal Surface.
---
1990s
Enhanced process monitoring and controls were introduced.
Integrated robotics, process step consolidation and dust/fume containment systems to limit worker exposure as well as product contamination were developed.
Valve designs were expanded to include high pressure, high temperature and abrasive applications from every industry.
RF technology was integrated to replace temperature probes, pressure monitoring and 4-20 milliamp wiring.
1st Over-Shaft Rotary Union for Multi-Air/Liquid Passages onto Unit for Remote Operation.
---
Casey Muench Bickhardt
2000s
GEMCO became ISO 9001 certified.
Control loop technology was developed, eliminating the need for highly skilled operators.
Integrated data bases (Contact Management, Manufacturing Software, and GOAD quoting software), creating a bridge between the customers, manufacturing and engineering.
Introduced ABS, Adaptable Blending Systems.
Introduced Encoder based positioning systems.
Began supplying Laser Monitoring Systems.
Developed GEMCOMATIC® easy take apart sanitary valve.
Developed the Lip Seal design for agitators, replacing the older rope packing design.
---
2010s
Redesigned the GEMCO on a disk (GOAD) to an internet based system now called GPS. GPS works along with newly developed Infotainment Glossary.
Migrated from Auto Cad to SolidsWorks 3 D engineering drawings.
---
2020s
GEMCO testing and tolling operation with sister company, Advanced Powder Solutions
Survives business and personnel challenges of COVID-19 global pandemic, continuously manufacturing and delivering world-class tumble mixing and drying solutions
Achieves highest new machine sales year in GEMCO history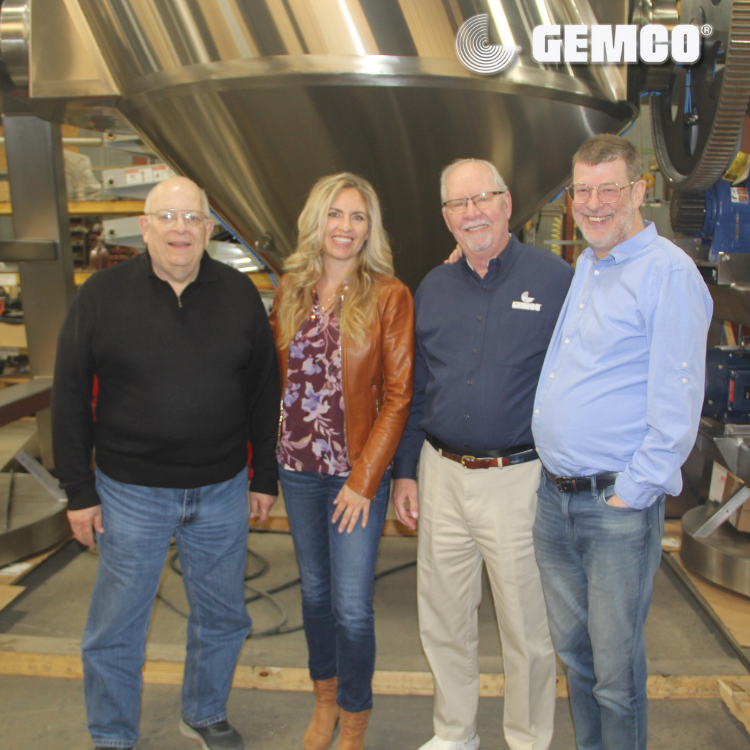 Former GEMCO Leaders Visit
We specialize in development of all things powder for manufacturing industries.