PortaHopper Portable Industrial Mixer
Blend, Transport and Material Handling All With One Vessel
GEMCO PortaHopper® portable industrial blending systems provide the ability to both process and transport materials in a common hopper unit. This is accomplished with a material handling system that consists of the drive top blending unit and transportable hoppers.
The PortaHopper Portable Industrial Blender utilizes GEMCO's exclusive high-efficiency D/3, Double Cone design, with a detachable hopper functioning as half of the blender. The portable hopper is mounted on wheels for easy transportation. During transportation, the hopper can be sealed with dust-tight covers. Plus they can be equipped with a retractable sleeve discharge device. By using multiple hoppers, the system provides the capacity to handle and process materials in a semi-continuous cycle. Downtime is reduced to the short period that is required to exchange hoppers. Contact us to learn more about our PortaHopper tumble blender or request a quote today.
GEMCO Portahopper features include:
Double cone drive top with one hopper
Gear-driven through motor-reducer combination with brake
304 stainless steel contact material for ease of cleaning
Integrated control panel
Convertible for future installation of agitators
Discharge valve options
Airless & Spray systems
Internal and external polishes
Stainless steel frames
Cover scoop
Sample port(s)
Forklift attachment(s) constructed of carbon steel angle iron or stainless steel support legs
GEMCO Portahopper Tumble Mixer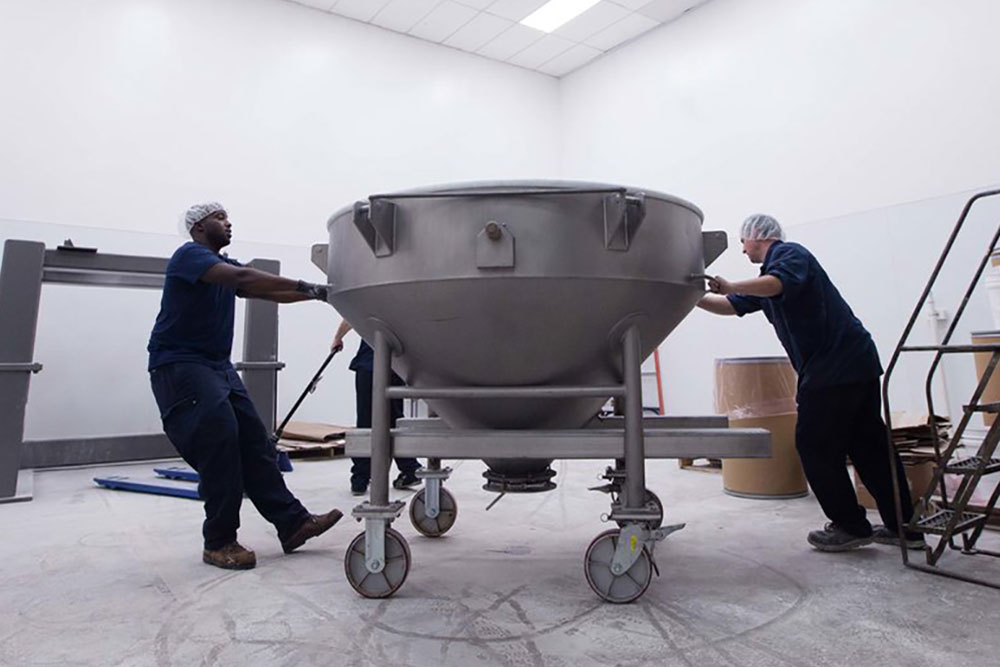 Semi-Continuous Blending for Solids and Liquids/Solids Applications
The PortaHopper® portable industrial mixing system is perfect for blend operations where quick change-overs for cleaning are required. Also, the system is particularly suited for applications that are sensitive to cross-contamination problems. This problem can be addressed by utilizing different hoppers for each material and by designating those hoppers for use only with specific materials. Using multiple hoppers, the system provides the capacity to process materials in a semi-continuous cycle thus high throughput of the same product.
We specialize in development of all things powder for manufacturing industries.
Looking For more Product Resources?
Upgrading is for phones.
Future-proof your investment.
GEMCO's complete product line is designed around a long term philosophy. Whether you're purchasing a new or used GEMCO product, rest assured our engineers manufacture for legacy models.