Material Handling Equipment Technology & Integration
GEMCO Customers may choose which processes they wish to monitor, as well as whether to monitor from a panel or manual controls.
Today's Material Handling Technology has combined the flexibility of Radio Frequency sensors with Internet Protocol (IP) and intuitive software written for GEMCO tumble mixers and dryers. IP and radio frequencies include sensors that can be placed anywhere in the operation area, or within the vessel itself. Pressure, temperature, moisture, and level can be monitored accurately. Readings can be monitored in tenths of a second, simultaneously, from hundreds of feet away. These rugged sensors are also rated for wash down and hazardous duty.
The PLC control will monitor and record as instructed. Controlling the system to perform a recipe is not complicated. Recipes can be run with a time-based program or set to perform within preset limits. The custom material handling program mechanically controls the dryer to perform routine tasks without operator interference. Coating operations can be done automatically. The precise coating is achieved because all phases of the pumping and spray control are consistent.
Custom report writer lets us capture trending data to improve batch efficiencies like never before. The gentle and consistent performance of the vacuum tumble dryer means batch improvements can be measured and implemented with confidence.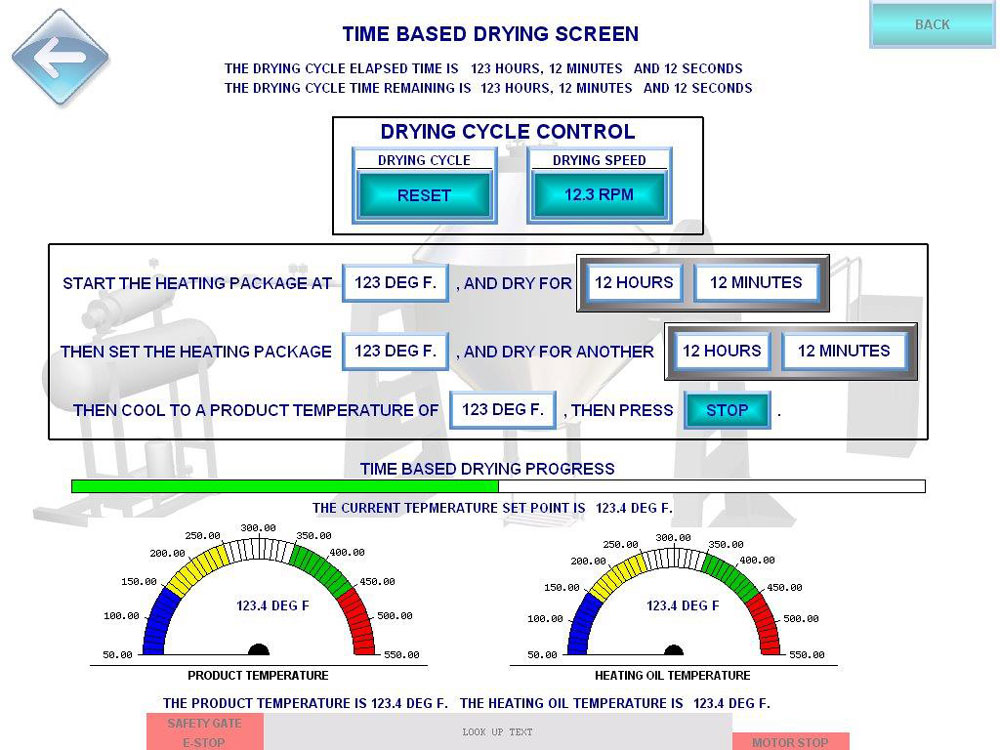 Efficiencies to be gained:
Consistent batch record keeping
Consistent recipe control
Only one operator
Batch security
Personnel protection
More batches per year
Potential savings to be gained:
One operator – Save $1,000.00 per batch
One Supervisor – Save $1,000.00 per batch
Energy-saving from reduced cycle time
Less maintenance – $25,000.00 per year (based on 100 CF dryer)
Reduced calibration cost – $4,000.00
The following is a sample list of the available process controls:
Purge
Product Temp Gauge
Vessel Pressure Gauge
Safety Interlock
Retractable Sleeve Interlock
Safety Valve Interlock
Safety Dust Arm Interlock
Drive Amperage Meter
Agitator Amperage Meter
Airless Liquid Addition
Heating Jacket Inlet and IO Temp Connections
Heating Package Inlet and IO Temp Connections
Heating Package Inlet and IO Pressure Connections
Heating Package Inlet Flow Meters
Blow Back
Vacuum Package Chiller Inlet and Outlet Flow Meters
Vacuum Package Chiller Inlet and Outlet Temp Connections
Vacuum Package Chiller Inlet and Outlet Pressure Connections
Vacuum Package Inlet Vapor Temp Connections
Vacuum Package Inlet Vapor Pressure Connection
The human factor has perpetuated the belief that drying is an art, not a science.
Through 100 years of gained expertise, GEMCO material handling equipment technology provides the precise details necessary to understand the most important variables in powder mixing and drying. Advances in PLCs and sensing devices, coupled with that information have created a new level of tumble mix and dry capabilities, including the ability to produce tons of material a day with only minimal human intervention.
We specialize in development of all things powder for manufacturing industries.
Looking For more Product Resources?
Upgrading is for phones.
Future-proof your investment.
GEMCO's complete product line is designed around a long term philosophy. Whether you're purchasing a new or used GEMCO product, rest assured our engineers manufacture for legacy models.