Blended Bulk Material Handling Systems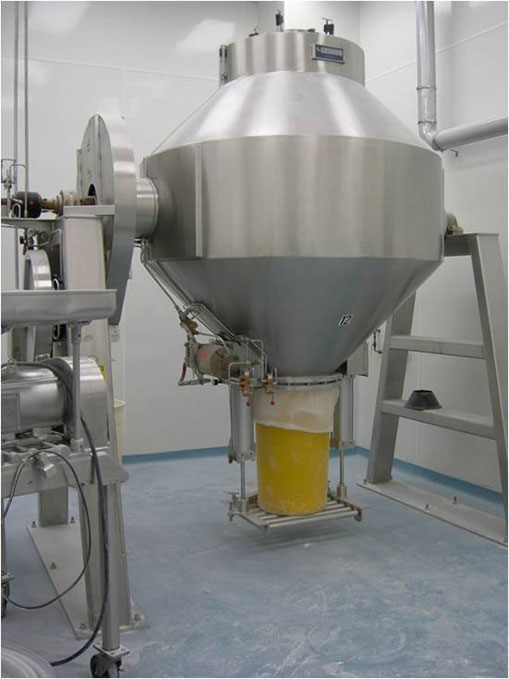 Loading connections can be fast, safe, and automatic.
GEMCO offers several connection types for fast, dust-less powder transfer when clients have high production demands. The biggest issue is the various clearances required for containers above and below the blender.
Next, is a reliable connection that doesn't have to be adjusted manually every time it's used?
Lastly, it has to be dust-tight. The connection face-to-face dimensions can vary from 4 to 40 inches. To accommodate these large differences, GEMCO uses inflatable seals, telescoping sleeves, and retractable sleeves in our blended material handling systems. These Blended Material Handling devices can be mounted on the vessel or can be fixed to the ceiling or floor. The transfer valves and chute diameters vary from 6 to 16 inches. All of the devices are air operated, requiring little maintenance.
A Blended Material Loading and Unloading system can be incorporated with many of our blenders. The system is designed to automatically load and unload powder into and out of the unit. The system solves dust control and product loss as well as offers improved economics in installation and operation. This system is a one-man, one-floor operation, eliminating the need for second-floor mezzanines or platforms. For more information on our blended bulk material handling equipment & systems contact us.
We specialize in development of all things powder for manufacturing industries.
Looking For more Product Resources?
Upgrading is for phones.
Future-proof your investment.
GEMCO's complete product line is designed around a long term philosophy. Whether you're purchasing a new or used GEMCO product, rest assured our engineers manufacture for legacy models.