Blended Material Handling Systems
You blend to perfect precision while your competition wastes time: stop, transfer, reload, resume, repeat.
GEMCO's Blended Material Handling and Powder Mix ecosystems eliminate unnecessary material transfer whenever possible. Where blended material transfer is necessary, GEMCO's process integration and technology experts help minimize aggravation through advanced blended powder mix handling.
Whether you're interested in pneumatic loading, bulk material handling, or considering a Portahopper system, GEMCO's diverse transfer options will help you do what you need to do – with fewer headaches, liability, and costs.
Need large powder mixing campaigns done yesterday?
– Not a problem
Enter the Portahopper, a blended material handling engineering feat that facilitates bulk and precise throughputs in a short amount of time.
Its built-in material handling allows you to move from one batch to the next in minutes.
Bigger batches, shorter processing time, improved profitability. Tote mixers need not apply.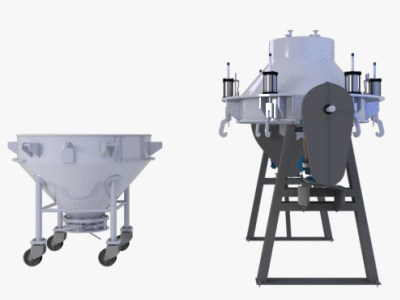 Designed for safety and cost savings
PortaHopper owners benefit from streamlined powder mixing operations and reduced manpower whenever a Portahopper rolls across the floor.
Fugitive dust meets high-security containment.
Conventional loading from mezzanines is amateur hour.
GEMCOMATIC modules make loading as easy as the push of a button.
The GEMCOMATIC creates a dust-tight seal and loads a drum in 18 seconds.