V-Shape Vacuum Dryers
GEMCO V-Shape Vacuum Dryers and Drying Systems are very popular in a wide range of industries.
They offer both shorter blending and optimal drying times.
The V-Shape's precise final batch output is achieved by the constant dividing and intermeshing particle movement provided by two inclined cylinders. The tumbling mix and dry action result in blend variations of an impressive 1-2%.
Each cylindrical shell on the V-Shape Vacuum Dryer has an access cover for easy material loading, unloading, and cleaning.
The V-Shape Tumble Dryer, like all tumble machines, requires low maintenance and consumes little horsepower.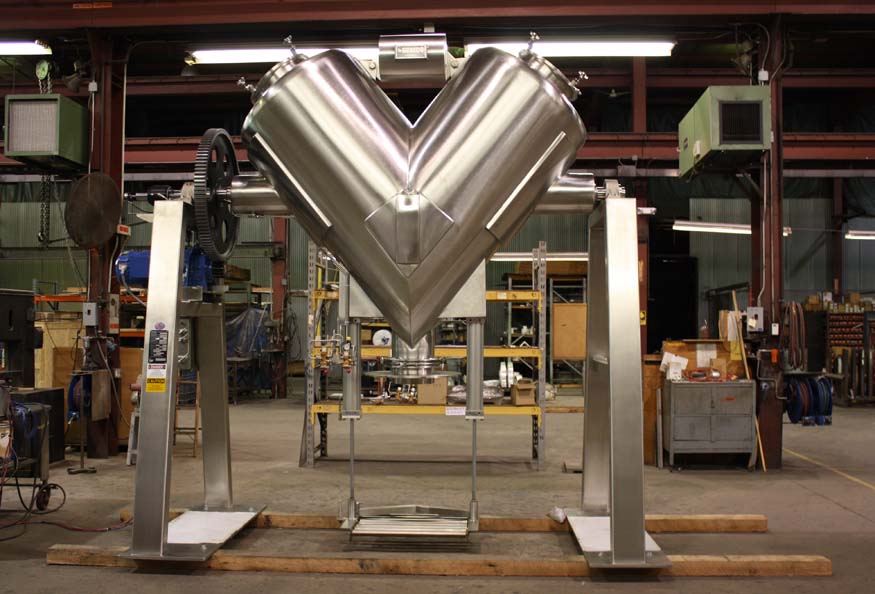 V-Shape Vacuum Dryer Options
As a custom manufacturer of tumble dryer equipment, GEMCO can build equipment to your exact specifications for your intended applications. Don't pass on equipment options that can further optimize your production cycle. The full line of GEMCO V-Shape Tumble Vacuum Dryers can be purchased as totally packaged, "stand-alone" systems. With a packaged system, the only external requirements are electricity, water, and air for total operation for easy integration into your manufacturing line. Standard packages and additional equipment options include:
Atmospheric control
Seam-welded stainless steel insulation jacket
GEMCO valve
Sanitary construction
Retractable sleeve
Special electronics
GEMCOMATIC – Material Handling System
Support frame extensions
Support enclosures
Recorder/controller for vacuum and heat
Computerized process control
Weigh cells
Complete range of finishes and polishes
Explosion-proof design
Convertible units capable of agitator and/or Airless I retrofit
Pneumatic valve operation
Thermistor sensors for product-process monitoring/control
Ceramic-coated or stellite agitator blades
Reverse-pulse vacuum filter cleaning
Application-specific filters and filter cover bags
We specialize in development of all things powder for manufacturing industries.
Looking For more Product Resources?
Upgrading is for phones.
Future-proof your investment.
GEMCO's complete product line is designed around a long term philosophy. Whether you're purchasing a new or used GEMCO product, rest assured our engineers manufacture for legacy models.