Vacuum Material Handling Equipment
Basic Vacuum Material Handling Systems consist of a Single Pick-Up Point, a Single Vacuum Receiver, Vacuum Producers, and a control panel. Available in USDA sanitary design they are suitable for the Food, Pharmaceutical, and Chemical industries. Distances conveyed vary from 10' "up and in" to 100 feet. Applications include loading a mixer, packaging machine, tablet press, volumetric or gravimetric feeders, and any other application where bulk dry powders are conveyed to the process. GEMCO's Vacuum Material Handling Equipment saves injury costs by eliminating the need for heavy lifting, scooping, and climbing.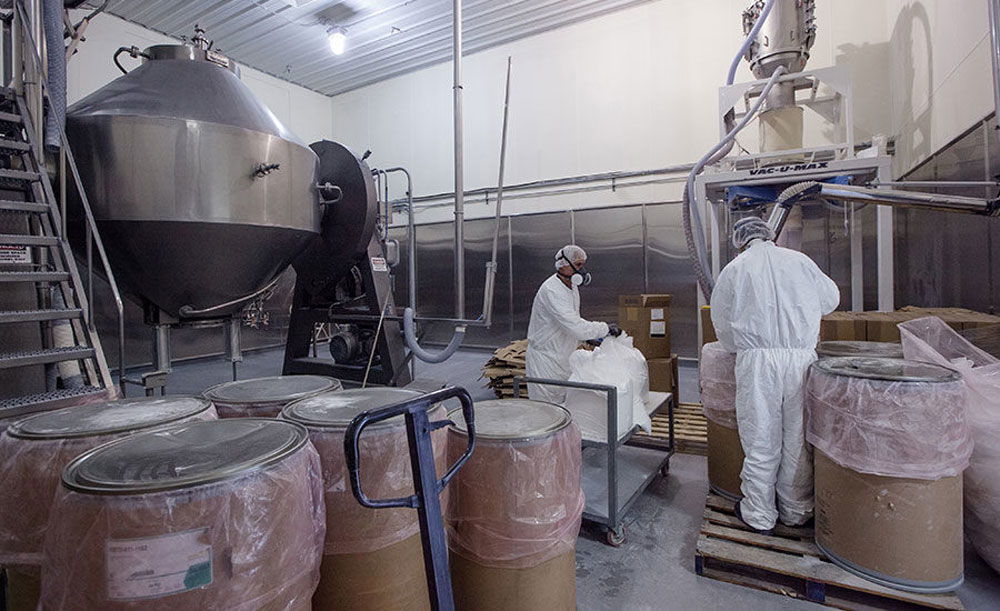 Direct Charge Loading Systems for Vacuum-Tight Blenders
The principle of vacuum powder mix transfer systems has been proven to be a "better way" to move many types of material and a giant step over manual handling. The technology exists for moving virtually any material that can be pulled through a hose or tube.
A unique adaptation of vacuum transfer is "direct charge blender loading," when a vacuum tight process vessel becomes the primary vacuum receiver for material being charged into it.
Bulk Bag Dischargers for Vacuum Conveying Systems and Discharging Powders from Super Sacks
Bulk Bag Unloading Systems, also known as Bulk Bag Dischargers, are specifically designed to provide an easy, clean and economical way to discharge the entire contents of bulk and semi-bulk bags, especially when the material is less than free-flowing. Our massage paddles have a proprietary design to discharge the contents of the bag dust-free into your process, to a Pneumatic Conveying System, Flexible Screw Conveyor, or an Aero-Mechanical Conveyor.
Vacuum Conveyors and Filter Receivers
An option for smaller campaigns, a mini hopper with a nominal capacity of about 1/8 cubic foot will convey material up to 500 pounds per hour. It is great for use with recycling dry products in bakeries, loading tablet presses, and for use in loading low-rate filling machines for the packaging industry. Features include a 1.25" or .5" diameter inlet, power source is plate mounted single venturi power unit with an integrated control panel with timer, 316L stainless steel, manufactured to meet USDA dairy and food inspection standards.
We specialize in development of all things powder for manufacturing industries.
Looking For more Product Resources?
Upgrading is for phones.
Future-proof your investment.
GEMCO's complete product line is designed around a long term philosophy. Whether you're purchasing a new or used GEMCO product, rest assured our engineers manufacture for legacy models.